Chicken Zucchini Alfredo Pasta
Posted On June 14, 2022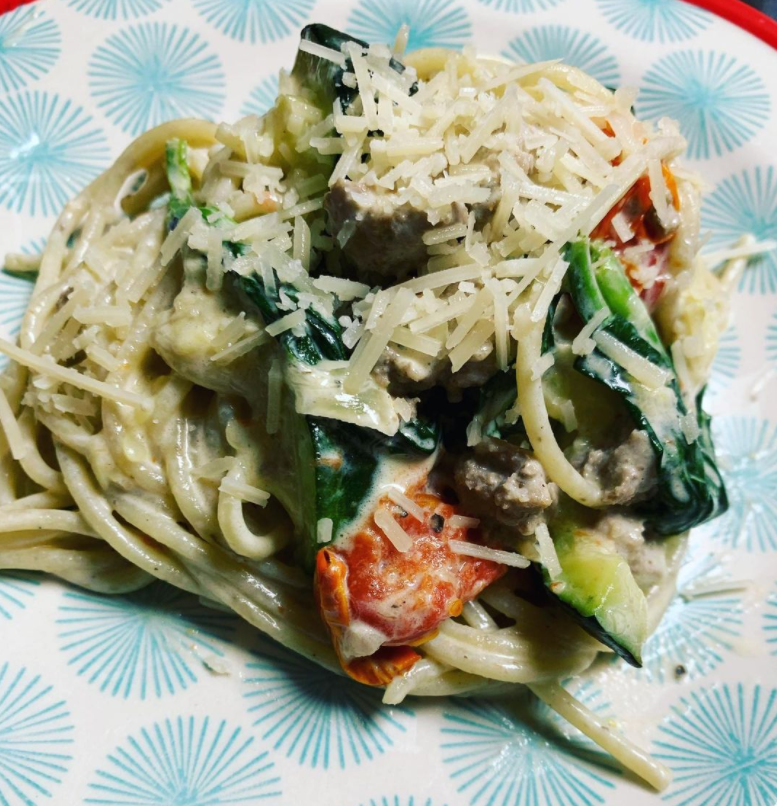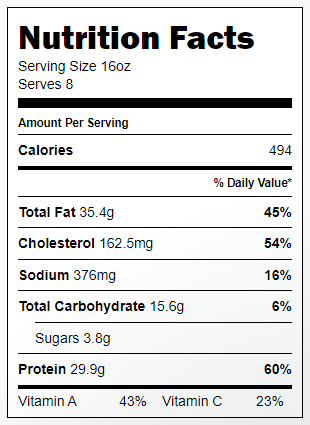 Ingredients
2 pounds boneless skinless chicken
4 tablespoons Roasted red pepper & garlic season blend (dry)
Juice from 1 lemon
2 small zucchini
1 cup grape tomatoes – if using larger tomatoes cut into 1/4″ pieces
1 1/2 cup spinach
16 ounces heavy whipping cream
4 tablespoons butter
3 tablespoons extra virgin olive oil (EVOO)
1/4 cup minced onion
1 tablespoons minced garlic
1 teaspoon each salt & pepper
1 package pasta of your choice
Shredded Parmesan (amount is to your liking)

Prep
Cube your chicken
Dice zucchini
Halve grape tomatoes
Mince onion
Mince garlic
Directions
1. Pre-heat oven to 350
2. In a medium bowl toss the zucchini & tomatoes in 1 tablespoon of EVOO, 1 teaspoon each salt & pepper well. Place on a baking sheet lined with foil. Bake for 20 minutes. Set aside.
3. In a large skillet on low heat add 1 tablespoon EVOO. Add the garlic & onion. Cook until translucent, about 5 minutes.
4. Add Chicken, half (2 tablespoons) roasted red pepper & garlic seasoning blend turn the heat up to medium-high heat continue cooking for about 15 minutes. Stir occassionaly. Remove from skillet and set aside. Do not discard skillet.
5. In a large pot cook your pasta based on package instructions.
6. Return the skillet to the stove on medium heat with the butter. Once melted whisk in the heavy cream, remaining season blend. Add salt & pepper to taste. As it begins to thicken add the chicken & roasted veggies, & spinach into the sauce. Cover about 5 minutes or until the spinach is slightly wilted.
7. Drain & rinse your pasta under cold water then add to the skillet. Combine well and serve; top with shredded parmesan.
Tips
Marrinate the chicken the night before. Place your cubed chicken in a covered bowl or storage bag with 1 tablespoon EVOO, 1/2 the salt & pepper, the juice of 1 lemon, 1/2 the roasted red pepper & garlic season blend.
Give your dish a kick by adding crushed red pepper.